Image Fusion for Higher Resolution
April 2015
The Challenge
You've been tasked with imaging the fine detail of a relatively large object. Perhaps you're looking at fine print on a large label, circuit traces on a big board, or small holes in a huge part.
Your first thought was to use a very high resolution camera. You've calculated 29 megapixels should do it. Cool, but your boss will never pay for it. Next you considered a high-resolution line scan camera to build a big image, line by line. But you hesitated because of the general complexity, the precise motion control required and, again, the cost.
The Solution
The solution is i4 Fusion. Use one or more moderate resolution cameras to capture multiple overlapping images of the object. Feed these images to i4 Fusion. It figures out how they fit together, allowing for variable overlap, orientation, and even scale. Receive back the composite ("fused") image.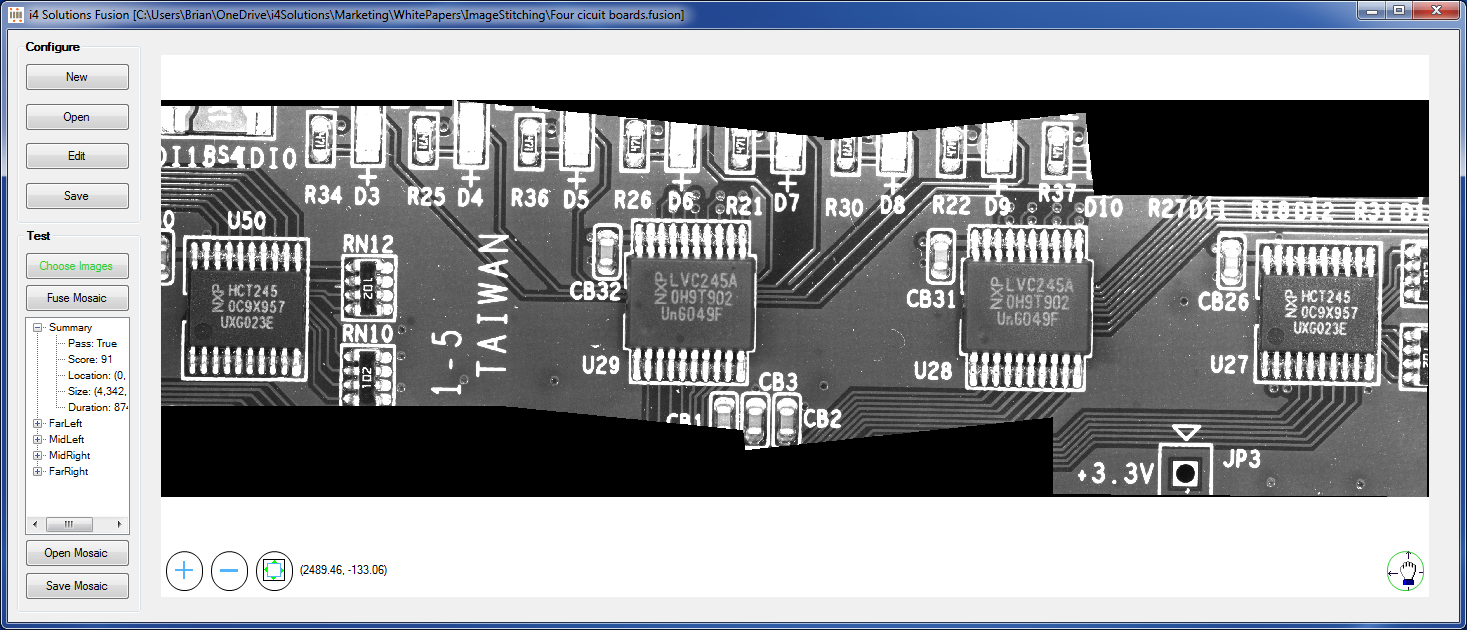 Features
Seamless fusion of component images – you cannot detect the overlapped region
Automatically translates, rotates and scales component images to achieve best fit
A large number of component images can be fused into a composite image
Component images may be arranged in arbitrary relationships, so long as each overlaps another
Processing a fused image enables accurate handling of image features located in the overlap regions
Outputs fused image, plus fit score and best location of each composite image
i4 Fusion includes a user interface for experimenting with images and settings. It can load composite images from files, fuse them, then display and save the fused image. A .net API is included to enable integration with many PC-based vision systems.
---
---